Our dear, sweet camp buddies.  Our kickball teammates.  Dearest back-porch jammers and swim-hole caravaners…  We can't wait to party with you all again.
We have announced the lineup! (Below)
And we have all kinds of good and helpful information for you (Below below below)
Get them tickets, and we'll see you oh so soon.  (Below below)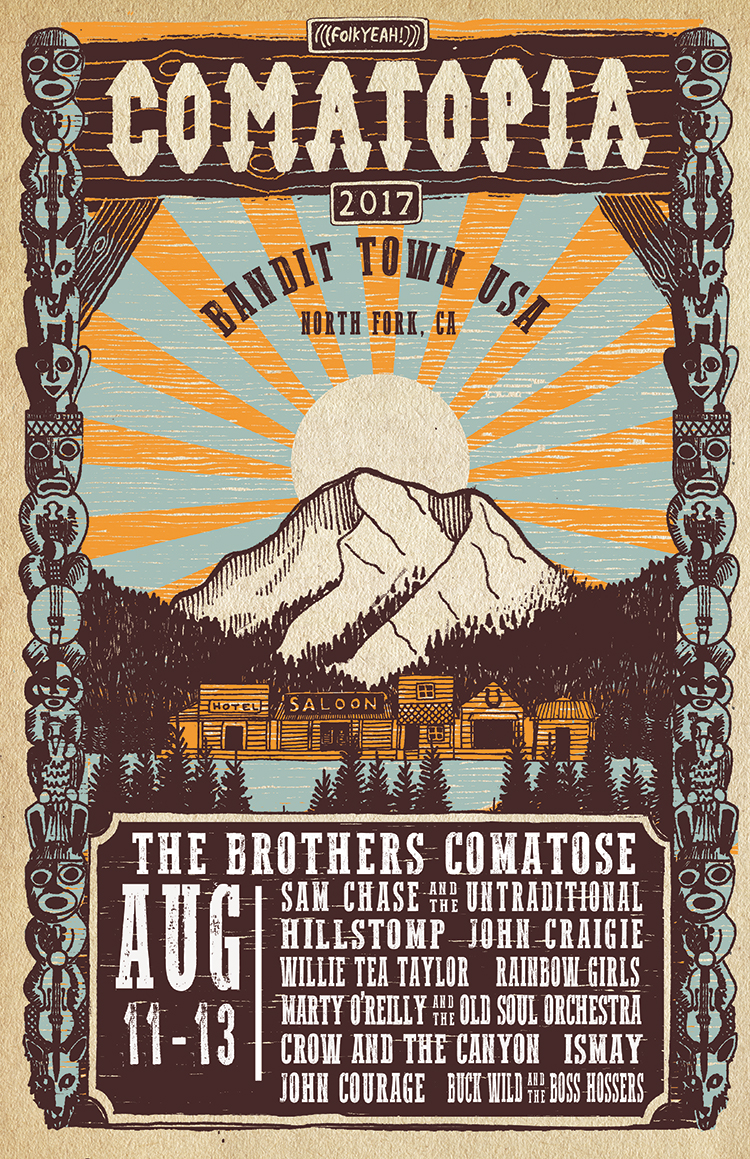 The only thing better than having awesome and wonderful friends who make kickass music, is sharing said friends and said kickass music with everyone we know.  Comatopia is our annual party to do that thing.
Witness the bands that will be playing!  Witness the music we want you to fall in love with!!
The Brothers Comatose (that's us, ya dingus.)
Sam Chase & The Untraditional (you may remember their awesomeness from such festivals as Comatopia 1…)
Hillstomp (Portland buddies who crush and rock harder with 2 people than most bands can with 22)
John Craigie (Have you heard that new album?  No Rain No Rose – ??  It's amazing.  Go listen to it!  – No, wait.  Better yet – come hear him at Comatopia and then buy his new album there.)
Willie Tea Taylor (The original Band Ambassador, mustache solo-er, whiffle-ball advocator, and rad dude.)
Rainbow Girls (Check out the new music from these righteous ladies!  Do it!  And then come and singalong with our Frostbite tour buddies at our festival!)
Marty O'Reilly and the Old Soul Orchestra (Hometown amigos, touring companions, french fry & salad thieves – we have lots of history with these lovely fellows.)
Crow And The Canyon (Our Portland friends that we see too seldom!  Can't wait to soak up their sweet string-y sounds again!)
Ismay (Our horse-riding, trail-guiding, song-slinging, typewriter-lending heroine from our own hometown!)
John Courage (Sonoma County legend, recording engineer superstar, Gremlintone founder, and future metal side-project shredder extraordinaire!)
Buck Wild & The Boss Hossers (… seriously?  How the hell did these guys get booked?  Two years in a row?  … no talent hacks, each and every one of 'em…)
There are two tiers of tickets – general 3-day admission that does not include camping and general 3-day admission that does include onsite camping.
Onsite camping is limited, so please don't wait to purchase this ticket if you would like to camp onsite.
Children under 10 are free!
 General Info:
Please carpool!!! Parking is limited
Food will be available for purchase onsite
Ice will be available onsite
Northfork is 2.7 miles away and has groceries, gas, and convenience stores.
Nearest larger town is Oakhurst for supplies (13 miles away)
Oakhurst has major hotel chains, but they sell out quickly due to Yosemite traffic.
Camping area is somewhat limited, please don't set up large party areas in campsite so that we can have room for everyone.
Personal alcohol at campsite only. We will be offering beer & wine in the saloon.
Please notify us at info@tahoe-artists if you plan to bring RV. Space is limited and we will do our best to accommodate RV's
Attendees should bring:
Shade structures for camping
Lots of sunscreen and water
Portable stoves for cooking only. No campfires!!!
Storage for food at campsites – there are bears in the area.
Solar showers – there are no shower facilities at Bandit Town
Chairs/blankets
Cash – ATM's are a few miles away.
Definite No No's:
Camping will be available onsite for about two thirds of attendees. If you want to ensure that you will be able to camp onsite, please make sure to purchase a weekend pass that includes camping before it is sold out.
There are a variety of other camping and lodging options available offsite, but August is a busy time in Yosemite (which is just down the road) and they will sell out in advance.
Feel free to do your own research, but here are a few suggestions on lodging: